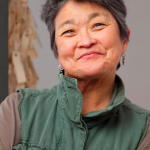 2008 Award of Distinction Honoree, Wendy Maruyama, is retiring from San Diego State University and we invite you to celebrate her 35 years of teaching.
Wendy wants her Furniture Society friends to help her celebrate on the evening of October 10, 2015 at her studio at Glashaus in San Diego. A big crowd from wide and far and good fun are expected.
When:   Saturday, Oct. 10th @ 7pm
Where:  Glashaus
1815 Main Street
San Diego, CA 92113
This event is free and open to current Furniture Society members as well as friends and colleagues of Wendy Maruyama, but you must RSVP via Eventbrite.
NEXT UP: CHICAGO – NOVEMBER 7TH
We're exited to have a presence at SOFA Chicago again this year! Join us for a regional event in the windy city on the Saturday evening of the show.
We are offering an opportunity to get a FREE pass to the FS2016 Conference, CRAFT / FACTURING: AN EVOLUTION OF MAKERS + ENTREPRENEURSHIP, June 23-26 in Philadelphia, PA.
Tickets for your chance to win the conference pass (a $400+ value) will be available for purchase exclusively during this regional event.  Tickets will be $20 each or 6 for $100.
If you cannot attend and wish to take advantage of this opportunity, simply arrange for a friend in attendance to purchase a ticket for you. Come prepared to mingle, socialize, network, and get a jump start on planning for FS2016 in Philadelphia!
Check back for more details on where and when.