Are you or your organization a member of The Furniture Society? If so, we want to help you get the word out about any opportunity you may be offering that would be of interest to other Furniture Society members. If you have a fellowship, internship, residency, or other opportunities to post please send the details to opportunities@furnituresociety.org. Please be sure to include contact information, links to any application forms or other information on your website, and all relevant dates.
Woodshop Technician: Educational Coordinator II-Position Description
University of New Hampshire
Expected hire date: August 12, 2019
This position works closely with students and assists the wood working professor in providing both theoretical and technical instruction during classes and open shop hours; aids students in the development of their projects, and promotes safe shop practices. The technician finds creative ways to improve the shop facility in terms of aesthetics, function and safety, and maintains an active creative studio practice in view of wood working students. Additional duties include management and maintenance of the shop facility on a day-to-day basis, supervision of 2 work study students, and completion of tasks in the Paul Creative Arts Center.
For complete details and application information, visit this job posting on the UNH website
The Port Townsend School of Woodworking  is seeking a visionary and innovative Executive Director to drive the School's continued growth by expanding programming, enhancing staffing and facilities, increasing the School's enrollment and revenue; and increasing philanthropic revenue.  You can find the entire job description here: https://www.ptwoodschool.org/employment   
Applying for the job:
    

Please send a letter of interest and a resume to

jobs@ptwoodschool.org

. The letter of interest should address how your skills, passion and insight align with the School and it's vision of growth.

    

If you have questions about the position please arrange a phone call with Tim Lawson (Founder and Emeritus Executive Director) by emailing him to arrange a time and date for the call. Tim can be reached at

lawson.tim@gmail.com

.

    

There is a rolling application process in place. The position can be open as early as July 2019. The first review of candidates will occur in the week commencing 3rd June 2019.
You may also download the PDF for this job announcement
Camp Fernwood, a residential summer camp in Maine, is seeking highly motivated instructors to teach woodworking from June 20th to August 14th 2019.
Here you will be teaching girls ages 8-15. The successful candidate will be joining 150 other staff members from all over the world, where he or she will be residing in an all girls, seven-week program filled with many different activities.
Camp Fernwood, a residential summer camp in Maine, is seeking highly motivated instructors to teach woodworking from June 20th to August 14th 2019.
For complete details and application information, download this PDF file.
The Southeastern Center for Contemporary Art (SECCA) is looking for submissions for our upcoming exhibition, entitled Furnished. "This exhibition will examine the contemporary spirit of furniture, design and functional sculpture."- Curator of Contemporary Art, Wendy Earle.
Deadline for this Call has been extended to April 12, 2019!
This exhibition is about the reimagination of furniture and how the themes and designs of functional sculpture and furniture have expanded in the digital age. We are looking for cutting edge objects. This will not be a comprehensive survey, but rather will provide visitors with a snapshot into creative production.
View or download the PDF Call For Entries for complete information
ASSISTANTSHIP PROGRAM
Application Deadline May 31, 2019
The Furniture Society is pleased to invite applications for assistantships to Groundwork: Inspiration, Intersections, & Experimentation of Furniture Practice, the annual FS conference being held in partnership with and hosted at the Milwaukee Institute of Art & Design (MIAD), June 19-22, 2019 in Milwaukee, WI.
This invitation is offered to students, apprentices, and trainees working in any field related to the furniture arts. All applications will be considered regardless of the applicant's age or special circumstances.
For complete details and application forms, see FS19 Student Assistantships

Every year, The Center for Art in Wood hosts the Windgate ITE International Residency, a 9-week, interactive program for five artists; one student artist; a photojournalist; and a scholar who live and work together at the University of the Arts in downtown Philadelphia. The residency is designed as a collegial experience and encourages an open exchange of creative and technical innovations. The program runs from the first week of June through the first week of August and culminates in a group exhibition of their work at the Center.
One opening remains in 2019 for a student artist. For details and the application form visit http://centerforartinwood.org/windgate-ite international-residency/
The San Diego State University School of Art and Design is seeking excellent candidates for the position of Equipment Technician I (Mechanical), a full-time, benefits eligible, permanent (probationary) position. To receive full consideration, apply by Monday, September 3, 2018. The position will remain open until filled.
Find a complete job description and application information at this link:
San Diego State Equipment Technician Position
(that URL is a listing of all open positions at SDSU, scroll down to find and click on Job ID# 6693)
Anyone having questions about the position can contact Adam Manley <amanley@sdsu.edu>, Assistant Professor of Furniture Design and Woodworking at SDSU.
The Furniture Society along with Haystack Mountain School of Crafts is proud to announce a three-year partnership, to support artists working in the field of woodworking and furniture design. Over the next three years, The Furniture Society, through a juried process, will select one Furniture Society member each year to receive a full scholarship to attend a summer workshop in wood at Haystack.
Furniture Society member Joe Goodwin is the inaugural recipient and is taking the workshop, Furniture: Form, Texture and Surface in Sculpted Form with Brent Skidmore. Congratulations Joe!
Watch out for the next call for scholarship applicants later this year.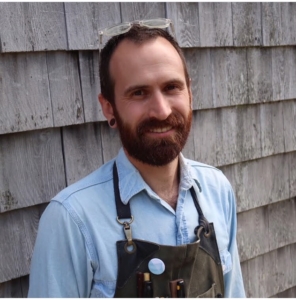 'New-in career' furniture makers are encouraged to apply for the 2018 John D. Mineck Furniture Fellowship. Offered by the John D. Mineck Foundation, this $25,000 fellowship is awarded annually to an emerging maker "... who demonstrates skill and commitment to their craft." Several Furniture Society members have been awarded this fellowship in recent years.
For more information:
More information can be found here:
https://societyofcrafts.org/about/artist-opportunities/mineck-fellowshipTo apply for this fellowship: