Furniture Society conferences are held annually in locations across North America.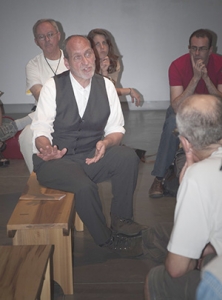 Distinguished makers, educators, and scholars are brought together to offer main stage presentations, workshops, and round table discussions on a wide range of subjects related to the field. Expert makers offer hands-on workshops and demonstrations featuring technique-driven presentations, highlighting individual practices. Numerous exhibitions of fine furniture are on display, and the local culture and furniture making tradition always play a prominent role in the conference.
Our conferences offer an assortment of down-to-earth technical workshops, stimulating discussions, invaluable tips and tricks, member and juried exhibitions, camaraderie, and FUN. No matter if you are a furniture maker, curator, collector, student, educator, writer, gallery director, professional, amateur or just plain enthusiast, the conference is the event to network with others who share an interest in the art, business, and relevance of furniture making.
There will be plenty to inform, energize and inspire you! Join us!
The ninth annual Furniture Society conference was held June 8th-11th, 2005, at San Diego State University,San Diego, California.
SOUTHERN CALIFORNIA has always been a hothouse of alternative design ever since the architect brothers of Greene and
Greene first developed the "California Bungalow" in 1910. A warm temperate climate and the enchantment of the Pacific
Ocean have lured artists and designers from around the world for over a century.  It was in this context, a tradition of alternative thinking, that the organizers of the Ninth Furniture Society conference created programming and events.