MIAD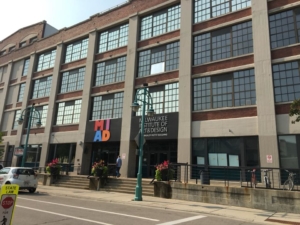 As an accredited, nonprofit, the Milwaukee Institute of Art & Design provides a transformative four-year Bachelor of Fine Arts education that prepares students of diverse cultural and socio-economic backgrounds for fulfilling and financially rewarding careers. MIAD fosters innovative, entrepreneurial and disruptive thinking that benefits our students and our corporate and nonprofit partners. MIAD also brings robust career pathways and college-readiness experiences to high school youth and provides cultural experiences and programming to the Greater Milwaukee community.
The professional experiences students receive throughout the curriculum and via the MIAD Innovation Center are a vital part of their MIAD education, leading to national accolades for the college. MIAD is among the top three art and design colleges nationwide for helping students from low-income backgrounds attain upper-middle-class jobs, according to Money Magazine's 2018 Best Colleges for Your Money. The college also has been named a Top Design College by Graphic Design USA for four consecutive years.
MIAD's campus is located in Milwaukee's Historic Third Ward with twenty blocks of renovated warehouses, artists lofts, theaters, businesses, shops and restaurants. A destination for both tourists and residents, the Third Ward possesses a distinct and unique urban flavor.
visit MIAD website miad.edu for more information
273 E. Erie St., Milwaukee, WI 53202
phone: 414-847-3200