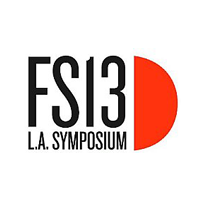 The Furniture Society's 2013 annual gathering convened June 21-23, 2013, in Los Angeles, CA.
FS13: L.A. Symposium was a four-day event uniting leading furniture makers, design thinkers and curators from across the country for an ambitious roster of lectures, tours and exhibitions. A departure from the Furniture Society's typical conference format, FS13: L.A. Symposium harnessed the energy of L.A.'s design culture to explore issues critical to designer-makers today: serial production, sustainability, innovation and creative business practices.

The Society also partnered with Craft in America for an afternoon & evening lineup of programming at the Craft in America Study Center on Saturday June 22.  Programming included a lecture by Jo Lauria, independent curator/writer specializing in Decorative Arts, Design and Crafts and former assistant curator at LACMA.  Lauria gave a talk titled Furniture Trend-setting: The Evolution and Continuation of Innovation in California Design.
FS13: L.A. Symposium pushed democratic design. To that end, in addition to paid programming, the symposium hosted a number of events open to the public:
A furniture Society-hosted exhibition titled Craft + Design exploring the intersection of furniture design and contemporary life at Fifth Floor Gallery in Chinatown near the Los Angeles Convention Center. The opening reception was held the evening of Friday, June 21 from 6pm – 9pm.
A curated exhibition highlighting the best student work from across the country was on view in Faculty Selects at booth 415 at Dwell on Design, the West Coast's premier exposition of design for the home at the Los Angeles Convention Center June 21-23. The Furniture Society was pleased to partner with Dwell on presenting this exhibition.
One tour on Thursday, and two separate tours to culturally significant locations in the L.A. vicinity on Friday, June 21. Pre-registered participants elected to visit either the Maloof Foundation, which celebrates the life of the renowned craftsman Sam Maloof, and the Gamble House, an American Arts and Crafts style home where the house and furnishings were designed by Charles and Henry Greene, or the home of the mid-century design luminaries Charles and Ray Eames and the Modernica furniture factory that produces many of their items today.  The tour also stopped by the Getty Villa in Malibu for lunch.