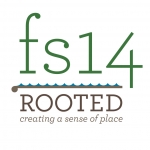 Reconnecting the craftsman with the community
Our 18th annual conference gathering, FS14, will take place in Port Townsend, Washington.  We are being hosted by the Port Townsend School of Woodworking. Conference dates are June 19 - 21, 2014.
Local craftsmen and local materials have been at the heart of furniture making for most of its existence. With exploration of the globe came access to new materials, new techniques and new inspiration.

The wheel has turned - focus is returning to local resources. The local food movement has a powerful call - connecting the consumer with the farmer next door. As furniture makers, we need to accept the local challenge and reconnect the consumer with craftsmen in their community and local sources of materials.
Every region has a distinct voice -  climate and topography govern the woods available, history drives the narrative, each region has a palette of colours, and  local industries produce other unique materials. How do our creations reflect our history, communities and surroundings?
We'd like to challenge the current generation of makers to think about the local narratives and styles that we will pass on to future generations of makers. Can we create the dialog, styles and visions that will be the foundation for the future?
MORE INFORMATION