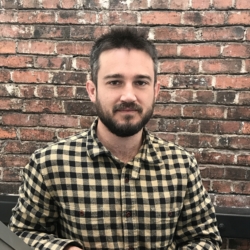 Nick Polansky
Nick Polansky grew up in the wooded coast of Northern California. He studied architecture and landscape architecture at UC Berkeley's College of Environmental Design. Upon graduation in 2006, he spent the following 4 years working with Lundberg Design, a small design firm in San Francisco that finds its authenticity in physicality. When working as a fabricator, he discovered the rules that materials enforce and as a designer, he is their eternal student.
He came to MIT as a Master of Architecture student to continue working on what he believes to be the forefront for adapting our new technologies to eliminate excess, and advance design beyond brittle expressions of passing ideologies. Matter is responsive. Architecture is not static. The best design is effortless, growing, weathering, adapting, and changing. As a designer, it is his responsibility to learn from what is right in front of him and reveal the invisible systems at play.
He is honored to work closely with a diverse group of designers, engineers, craftsmen and women, faculty and professionals to ask the big questions and develop the honest solutions. He appreciates that assembling a team is a design problem in itself. The balanced organization determines the complementary nature of its behavior. As a designer, steeped in the naturalist traditions of Northern California, he always looks forward to the rigorous process of cross-pollinating methods and ideas. In the end, design is an act of listening.
He is currently a project designer and project manager with Feldman Architecture in San Francisco, an associate researcher with MIT's Urban Risk Lab, principle of the design practice NWP, and previously an Artist in Residence at Autodesk's Pier 9 Workshop. He loves the history and innovative atmosphere of the Bay Area and finds his focus in the water, on the hills, on a skateboard, and with his heart.
Sessions