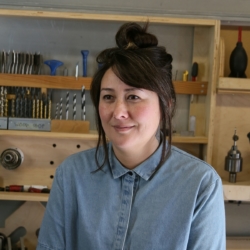 Mei-yen Shipek
Mei-yen Shipek currently works at Autodesk's Pier 9 Workshop where she supports artists, engineers, architects and designers to use and push the limits of cutting edge machinery in a state-of-the-art machine shop. This year, she co-founded Workbench Alliance, a membership organization promoting and advancing women working at the intersection of Craft, Technology, and Design.
During the past 16 years, she's developed a wide and unique breadth of expertise including woodworking, CNC/CAM, 3D printing, textiles, and metal work that she uses in her own multi-disciplinary practice.
After graduating from the California College of the Arts in San Francisco with a degree in Studio Furniture, she worked for Union Studio, a small interior architecture and furniture design firm in Berkeley. There she developed experience in production, construction techniques and design processes. She also worked at U.C. Berkeley's College of Environmental Design, where she helped set-up their Digital Fabrication Lab, as well as created workshop curriculums and taught students how to use manual and CNC machines.
Sessions