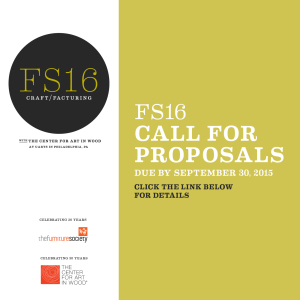 Programming at conference aims to offer multiple perspectives. In recent years the programming has blended artist presentations with panel discussions on contemporary topics relevant to the studio furniture community and the conference theme.  Presentations range greatly from technique driven topics to highlighting individual practices, such as historical or contemporary makers important to the studio furniture field and emerging makers presenting their talented approaches to studio design/build practices.
The planning committee is interested in individual or group presentations and panel discussions that expand on the conference theme. The dates for this event are June 23-26, 2016 co-hosted by the University of the Arts (UArts) and The Center for Art in Wood. Please submit your programming proposals for the 2016 Furniture Society Conference by September 30, 2015. Deadline extended to November 5, 2015!
To Submit Your Proposal:
Please submit a brief description of your presentation or moderated panel by November 5th to the planning committee chair Albert LeCoff at Albert@CenterForArtinWood.org. Please include "Conference Presentation" in the subject line and keep the description brief (700 words or less). Include the names of any other parties, besides yourself, that have already committed to this presentation or panel. If the discussion needs to be moderated, indicate the name of the moderator or your need for a moderator.
Proposals must include: title of presentation, subtitle if applicable, presenter's name, address, phone, e-mail and Web as well as a current resume or CV.
If visuals are essential to the explanation of the proposal, they should be submitted as jpg attachments in an e-mail (maximum size 4mb per e-mail) or provide a link to view your material on your website.