Warren and Bebe Johnson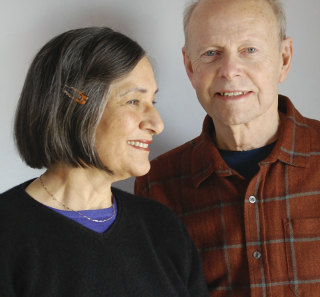 Gallery Owners, Champions of Studio Furniture and Makers
Award of Distinction Recipients (joint)
Presented by The Furniture Society
June 21, 2014
Notes from Andrew Glasgow, past Executive Director of the Furniture Society and the American Craft Council, about this year's honorees:
The dynamic duo being recognized with this year's Furniture Society Award of Distinction is the imitable Bebe Pritam Johnson and Warren Eames Johnson. I think it is safe to say that without Bebe and Warren it is unlikely that there would be a Furniture Society as we know it. I know I would have never been on the radar without Bebe's encouragement. I owe her a great deal.
Most of us know Bebe and Warren as the thoughtful, careful, and intentional owners of Pritam & Eames, the nation's premier gallery for Studio Furniture. One wonders, however, what brought them to this point.
Warren and Bebe both studied philosophy early in their academic career. After receiving her Master's degree in Communications from Boston University, Bebe would begin her real-world career and become Director, Asian Program Operations at the Council on International Educational Exchange in New York. Warren studied law and received a LLB from the University of Illinois, and pursued graduate economics at MIT. His career took a turn, however, when the Johnsons moved to New York, and he ended up studying film at Columbia University where he received an MFA. Warren co-authored a book on film production, taught film at various institutions including Columbia, and was cameraman/editor on a number of internationally based documentaries. After an interesting and successful decade, Warren and Bebe decided it was time for a change.
So, following the likes of De Kooning, Pollack and Larsen, they decamped to East Hampton, a bit before the glitterati of the 80s and 90s and, in another turn of career, carved out a life dedicated to craft: educating and offering to the public a retail opportunity, a public that sought them out in an historic old laundry building in East Hampton that became Pritam & Eames. For the last 33 years, Pritam & Eames has existed, both powerfully and quietly, out in Long Island for a very appreciative public.
Bebe and Warren were not satisfied with just selling the best studio furniture, they were also ambitious to contribute to the growing body of literature about this decorative arts field. This ambition led to conversations with makers and other intelligent aficionados that resulted in the publication of their book, Speaking of Furniture: Conversations with 14 American Masters [The Artist Book Foundation, 2013].
Personally, I can't imagine anyone more deserving of the Award of Distinction than Bebe Pritam Johnson and Warren Eames Johnson. They built and crafted a business that has sustained them, given a boost to grateful makers, and played an important part in building the dialogue that underpins today's studio furniture movement.