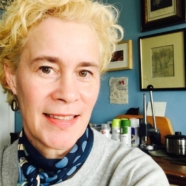 The Furniture Society is pleased to announce the hiring of Brigitte Martin as its new Executive Director. She will officially assume the position on November 1, 2017, and joins at an exciting time as the Society embarks on a new era of growth and renewal.
"I am honored to have been chosen to lead this interesting, vital organization," said Martin. "I am excited to support The Furniture Society's mission to advance and promote the art of furniture making. I look forward to working with the board to create exciting new programs for our members, and to revitalize and energize the organization overall."
Martin is Founder and Editor or crafthaus, an online social media network since 2008. Prior to that she has worked for the auction house Sotheby's as well as run her own brick-and-mortar gallery in Pittsburgh, PA. She has served as Chair of Fundraising and Development on the Board of Directors of the Society of North American Goldsmiths since 2012, culminating her service as the organization's president. Martin is a regularly contributing writer for American Craft Magazine and has recently been named the publication's Editor at large. Martin founded a national Craft Think Tank in 2012 and has co-organized the event together with the American Craft Council since 2013. Martin was named one of the 5 "Best Art Curators in Pittsburgh" by CBS, as well as one of "9 People to Watch in 2013" by The Crafts Report. Martin has authored the multiple awards winning book "Humor in Craft." She was featured on the NPR radio show "Radio Times" in May 2012 and by American Craft Magazine (2010, 2015.) Martin is a national public speaker on aspects related to running a business in the craft field, a communications expert, and a sought-after juror for craft shows and competitions. A goldsmith by training, Martin is a prominent, national advocate for art and craft, someone who supports and champions all craft media and artists working in the field today.
"It's an exciting time for The Furniture Society. All the more so with Brigitte coming on board at this juncture," says Furniture Society Board President Forest Dickey. "We, the Trustees, are looking forward to welcoming her and are eager to begin the important work of growing our organization into the vital nexus of furniture design, craftsmanship, education, and inspiration we envision it to be. Brigitte is an established, experienced, thoughtful, energetic, and passionate leader. We can't think of anyone more committed or prepared than Brigitte to lead The Furniture Society."